Oh, Arbonne.  How I'd love to love you….but just can't.
If I had a penny for every time someone asks me if Arbonne is safe…I'd have MANY pennies. I always give my honest answer/opinion. If I had a penny for every time someone wrote back in defense and said something like:  "You're wrong.  Arbonne is a great company.  They give back lots of money to charity and their products are safe and harmless".   Oh boy, all the pennies I'd have…
A part of me wants to yell back saying "seriously?!?   Wake up and smell the coffee….um… I mean the chemicals…"
Instead I dig deep down within myself to remember how I felt in their shoes…at first, it wasn't a great feeling.  But then, it all became clear.  Crystal, crystal clear.
You don't need to be a chemist to research and understand what some ingredients can do to your family's health.
I'm a mother, simply investigating ingredients for our own family and felt the need to share it with you and other families who may be consumers (or future consumers) of Arbonne.   Feel free to do the same.
(*** Full disclosure, we do NOT have skin care products to sell you, nor are we affiliated with any other company.  We do have an all natural and organic deodorant.  It sells world-wide but we still make ourselves that can be found here:  www.thebestdeodorantintheworld.com)
Our intention isn't to tell you what to buy and what not to buy.  It's simply to SHARE these ingredients with you so that you can do further research and find out for yourself.
Please refer to the sources I provide at the bottom of this article, those are what I used.
When a company promises you the world,  it's easy to blindly believe every word they say about their product without checking it out yourself.
But what if using their products daily means possibly jeopardizing the health of your baby?  Would you want to look into the ingredients further?
And that's exactly why we have a problem with the Network Marketing world…but that's for another post, another time.
"But they generously Give to Charity" Every single one of these companies 'gives back' to charity.  They may do it out of the kindness of their hearts.  Or, perhaps more realistically, they may do it to get a tax break.
Either way, we are here to discuss YOUR FAMILY'S SAFETY.
Let me ask you: Is it better acknoledge that we were wrong and end up healthier for it?
Or is it better to blindly accept what they say and to be right and end up hurting your family's health?
It's ok to be wrong.  It really is. We are wrong sometime.  And we love it.  It's the way we learn about this stuff. I personally don't have anything against Arbonne (or Mary Kay, or Avon, etc).  Except for the fact that each of these companies has done their fair share of lying to you (and to me).
RED FLAGS of possible GREENWASHING:
They do paint a pretty (green) picture, don't they?   But it's not the distributor's (or the rep's) fault.  I mean, come on.
Companies like these have their reps AND millions of consumers believing they are safe.  It's not right that they get away with blatant lies like this.

Here are a couple of things to look for…definite signs of greenwashing.
– When a company does not disclose each and every ingredient on their website, that should be red flag # 1.
– When their reps have no idea what is in each and every product, and when you call the company, they tippy toe around the question "what are the exact ingredients in your product". That's red flag #2.
– When companies use terms like "proprietary blend", "fragrance" or even "natural flavours" (Arbonnes' products don't all contain fragrance, only their actual perfumes)
These companies hide behind words like "botanical", "pure", "vegan", "cruelty free"   When the truth comes out, it's obvious they are only care about the bottom line.  They just have their priorities messed up; profits should NEVER come before the safety of people.
Sadly, we see this all too often. I'm not saying Arbonne is the worst company out there.  I'm saying it's not the best (not even by a stretch).  And it's definitely not what they want us (and you) to believe.
They claim to the 'the best' in terms of technology…when many others use Nano Technology also.  To many people hearing 'nano technology' is exciting (I  know the medical world is looking at nanosphere/technology for fast delivery of certain ingredients right where they want them in our bodies), but to us, and many others, there is still too much that's  'unknown' about nano tech.
When looking at the ingredients, Arbonne isn't any different than some store brands (or even drug store brands like Aveeno).  I wouldn't dream of using their baby line on my children.
The Proof We did some searching  (and I must say it was not an easy task!) to find the  ingredients for you…Here are 3 of their products, all of which are part of their Baby line, so you can see for yourself.
Again, the purpose of this article is to highlight the ingredient lists, not talk specifics about each ingredient. We started with their baby line on purpose.  Aren't baby products, supposed to be especially safe?
Some of the ingredients in their 'adult' skin care and make up line are worse.
Let's take a look at the ingredients, shall we?  
  Arbonne Body Care (ABC) Baby Care Lotion Ingredients:
– Water/Aqua/Eau,
– Glycerin,
– Cetyl Lactate ( !! suspected carcinogen, "Ecotoxicology, Use restrictions")
– Glyceryl Stearate,
– Isopropyl Palmitate,
– Sorbitan Stearate,
– Glycine Soja (Soybean) Oil,
– Butyrospermum Parkii (Shea Butter),
– Polysorbate 61,
– Dimethicone,
– Stearic Acid,
– Aloe Barbadensis Leaf Extract,
– Anthemis Nobilis Flower Extract,
– Prunus Persica (Peach) Fruit Extract
– Plantago Major Leaf Extract,
– Avena Sativa (Oat) Kernel Extract
– Carthamus Tinctorius (Saflower) Seed Oil
– Prunus Armeniaca (Apricot) Kernel Oil
– Retinyl Palmitate (!!)
– Ascorbyl Palmitate
– Tocopheryl Acetate
– Hydrolized Lecithin
– Tocopherol
– Panthenol
– Citric Acid
– Oleic Acid
– Stearoxytrimethylsilane
– Stearyl Alcohol
– Cetyl Alcohol
– Carbomer
– Triethanolamine  (!! "Allergy concern, immunotoxicity, Contamination concerns
(NITROSAMINES-in the presence of nitrosating agents), Organ system toxicity (non-reproductive), Use restrictions")
– Ethylhexylglycerin (!!)
– Caprylyl Glycol
– Phenoxyethanol (!! See below)
– Butylene Glycol
– Hexylene Glycol
– Disodium EDTA
– Potassium Sorbate
– Sodium Benzoate
– Sorbic Acid
– Ricinus Communis (Castor) Seed Oil
– Cedrus Atlantica Bark Oil
– Citrus Aurantium Bergamia (Bergamot) Fruit Oil
– Citrus Aurantium Dulcis (Orange) Peel Oil
– Dipteryx Odorata Seed Extract
– Citrus Reticulata, (Tangerine) Leaf Oil
– Citrus Medica Limonum (Lemon) Peel Oil
– Jasminum Oficinale (Jasmine) Oil
– Limonene
– Geraniol
Arbonne Body Care (ABC) Baby Hair and Body Wash Ingredients:
– Water/Aqua/Eau
– Decyl Glucoside
– Cocamidopropyl Betaine
– PEG-80 Sorbitan Laurate
– PEG-120 Methyl Glucose Dioleate
– Butylene Glycol
– Aloe Barbadensis Leaf Extract
– Anthemis Nobilis Flower Extract
– Butyrospermum Parkii (Shea Butter)
– Avena Sativa (Oat) Kernel Extract
– Prunus Persica (Peach) Fruit Extract
– Plantago Major Leaf Extract
– Retinyl Palmitate (!!)
– Ascorbyl Palmitate
– Tocopheryl Acetate
– Phospholipids
– Panthenol
– Triethanolamine (!!)
– Citric Acid
– Sodium Chloride
– Phenoxyethanol
– Caprylyl Glycol
– Ethylhexylglycerin (!!)
– Hexylene Glycol
– Potassium Sorbate
– Sodium Benzoate
– Sorbic Acid
– Ricinus Communis (Castor) Seed Oil
– Cedrus Atlantica Bark Oil
– Citrus Aurantium Bergamia
– (Bergamot) Fruit Oil, Citrus Aurantium Dulcis (Orange) Peel Oil
– Dipteryx Odorata Seed Extract
– Citrus Reticulata (Tangerine) Leaf Oil
– Citrus Medica Limonum (Lemon) Peel Oil
– Jasminum Oficinale (Jasmine) Oil
– Limonene
– Geraniol
Arbonne Baby Care (ABC)' Sunscreen Ingredients:
– Octyl Methoxycinnamate,
– 2-Ethylhexyl Salicylate (Octyl Salicylate)
– Oxybenzone (!! score of 8 !!)
– Retinyl Palmitate (!! score of 8 !!)
– several others including chemical sunscreens
*** Just in case anyone is wondering, the above ingredient list came directly from two different Reps in the company. *** The Arbonne Baby Care (ABC) Sunscreen even got a rating of 7 on the EWG site.  That's very close to the worst rating you can possible get.
Just copy and paste this link to see it:
http://www.ewg.org/skindeep/product/451157/Arbonne_Baby_Care_Sunscreen_Lotion%2C_SPF_30_%282012_formulation%29/
Even the "Arbonne Damage Control Sunscreen" for adults got a slightly better rating of 4 (still not fantastic).  
Why do we Worry about Arbonne?
Because many people don't know that these ingredients are found in toxic companies like Lancome (L'Oreal), Aveeno  (Johnston and Johnston), Estee lauder, and more.
Arbonne's 'technology' isn't different at all.
(***For an article on Aveeno and a successful Johnston and Johnston law suit see here:  Are Aveeno products natural? A Johnson and Johnson lawsuit ***)
Some of these ingredients can be contaminated with 1,4 dioxane and formaldehyde.
The problem is that once they've been bottles,  it's difficult to know  at what point these toxins are released. (See source #2, #11, #12)
You will rarely (if ever) find 1,4 dioxane and/or formaldehyde on the labels.  that's because they are only released when certain chemicals mix together AFTER they've been bottled.
These ingredients are endocrine disrupting and carcinogenic.

Sure, Arbonne has taken out a few parabens from their product…but as you can see, the list of chemical ingredients is still long and questionable.  Including PEGs, Quats, Oxybenzone, Phenoxyethanol, Retinyl Palmitate.
One ingredient in particular that isn't talked about often is Phenoxyethanol.
It's (found in their adult sunscreen product) and causes damages to the nervous system and brain.   It's been banned or restricted in many other countries…so, why not here?
As for Oxybenzone, well, it's now become more and more known that this is one ingredient to avoid.  Whether you're an all-natural type of person or not.  (See source #10)
Retinyl Palmitate has been shown to increase photosensitivity.  That means that putting it on and exposing your skin to the Sun could INTENSIFY the sun's effects…and possibly speeding up the mutation of cancer cells.  (See Source #14 and #15)) Even the U.S. EPA (Environmental Protection Agency) data sheets show "chromosomal changes and genetic mutation effects in testing as well as testicular atrophy and reproductive damage in mice."
It's important to note that studies have shown that some of the above ingredients (including the PEGs and  polysorbates) "enhance the activity of known chemical carcinogens while not actually being carcinogenic themselves"  (see sources).   Lastly (well at least for this article), Arbonne uses "nanosphere technology".  This might sound really neat…but the more we read, the more dangerous it appears to be.   We do NOT want these ingredients to penetrate into our skin (and sometimes even organs). This technology is not regulated here in North America (and elsewhere).  More research needs to be done, but for now, suffice it to say, we'll be staying away from any 'nano' technology cosmetics and skin care.  (see source #11)
**This has been taken directly from the EWG's site:  Sunscreens that boost skin tumor risk?
To read more about how sunscreens can be more deadly than the sun itself click HERE.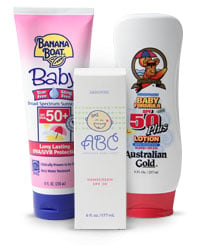 "Foods rich in vitamin A are good for the body. But applied to sun-exposed skin, this common sunscreen additive may speed the development of skin tumors and lesions, according to government studies. Why is vitamin A (shown as "retinyl palmitate" or "retinol palmitate" on labels) allowed in sunscreens made for use in the sun? Good question.   Almost 40 sunscreens advertised for babies and kids contain retinyl palmitate, including:
Banana Boat Baby Tear Free Sunblock Lotion, SPF 50+
Arbonne Baby Care Sunscreen Lotion, SPF 30
Australian Gold Baby Formula Lotion Sunscreen, SPF 50+
The FDA has yet to rule on the safety of retinyl palmitate in skin care products, but EWG recommends that consumers avoid sunscreens with this chemical. " (See source #13)
  "They DO Care about me and my family, they really do!"
The loyalty companies (like Arbonne) breed in their reps is incredible.  They really do make people feel that they are out to help them and they really care.  That may be true….but do they care enough to CHANGE the ingredients?   There ARE safer alternatives.  And for the price they are charging, we should expect better quality than the typical drug store ingredients…which is basically what they're using. We do
If we've upset you, I hope you can see past it and know that we truly care about PEOPLE.
We cannot keep silent.  We cannot just stand idly by while these companies continue to deceive innocent families.
OH!  I haven't mentioned the 'other' really important reason to avoid chemicals and why we worry.  That reason is the environment.  Our oceans are being flooded with toxic chemicals each and every day.  When we shower, when we apply sunscreen (the beaches and shorelines are clogging up with sunscreen residue), basically anything and everything we apply on our bodies ends up in the air, in the grown and/or in the water.   YIKES.
We've also been "taken" by the glits and glam of some of these companies in the past. Today, I say "let them keep dangling that carrot"….if we can be aware consumers and if we educate ourselves for the sake of our families, we'll never fall for that carrot nor take a bite. We don't have personal experience using the Arbonne product line..but when it comes to products they advertise safe for our families, it becomes personal.
(To read more on greenwashing and how the deodorant or antiperspirant you are using may be harmful see here:  Are Antiperspirants and Deodorants Safe?) To learn more and for other great posts and updates, simply  'like' us on Facebook here:  Naturally Down To Earth
*** Update 1:  Arbonne does now disclose their ingredients on the product labels.  Bad new is, the ingredients I mention above are all still in the product.  The wonderful news is consultants AND consumers can now do some research and make educated choices.  Which is the goal when 'exposing' companies like this.  It's not about telling people what they shouldn't buy…it's about giving them the power to make their own decisions.
*** Update 2:  Naturally Down To Earth just got a personal reply from Dr. Bob Wright (from the American Anti-Cancer Institute) himself. They have REVERSED their stance on the Arbonne products and will not be including the company in their next edition of "Killing Cancer Not People".    I will be making a special post about this, stay tuned.
Margaux Naturally Down To Earth Mom
Sources: 1) http://ijt.sagepub.com/content/4/5/223.abstract 2) http://ntp.niehs.nih.gov/ntp/roc/twelfth/profiles/Dioxane.pdf 3) www.ewg.org 4) www.epa.gov/ 5) www.http://www.ncbi.nlm.nih.gov/pubmed/ 6) http://ijt.sagepub.com/content/3/5/1.abstract 7) www.ecoclub.com (photo) 8) www.motherearthnews.com (photo) 9) http://thebeautybrains.com/2007/06/02/does-technology-make-arbonne-products-different/ 10) http://www.webmd.com/beauty/sun/sun-safety-sunscreen-and-sun-protection 11)  http://safecosmetics.org/article.php?id=688 12) http://www.organicconsumers.org/bodycare/DioxaneFacts080314.pdf 13) http://www.ewg.org/2012sunscreen/hall-of-shame-whats-wrong-with-the-sunscreen-protection-business/ 14) http://www.solastay.com/pdf/PhotostabilizingRetinol.pdf 15) http://www.ncbi.nlm.nih.gov/pubmed/16107546
The following two tabs change content below.
Margaux is an alternative health advocate, activist, amazing mother, toxic free living specialist and a Dona Trained Doula. Having done extensive research on alternative lifestyles, human psychology and nutrition, her articles have become a wealth of knowledge for many people around the globe.